The sand drain method is one of the most common vertical drain methods and has long been utilized in Japan. Vertical sand columns are formed in soft ground and their drainage effect leads to consolidation of soft clay ground. Continuity in the sand columns is essential, and implementation management gauges deliver reliable formation.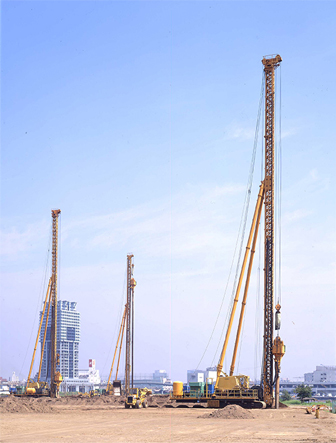 Preventing subsidence
Preventing slippage
Digging stability
Increased bearing capacity strength
Increased lateral resistance of pile
Soil decontamination
Consolidation Acceleration
Offshore implementation possible
Space and height restrictions
Features
Many applications
The most common vertical drain method used for many different purposes.
Suitable for a wide range of sites on land and offshore
The method with the longest history both on land and offshore, it can be implemented at great depth of water or at great land depth.
Thorough implementation management
Gauges indicate the quantity of charged sand, the depth of the casing pipe, the changing level of the sand inside the casing pipe during withdrawal, etc.