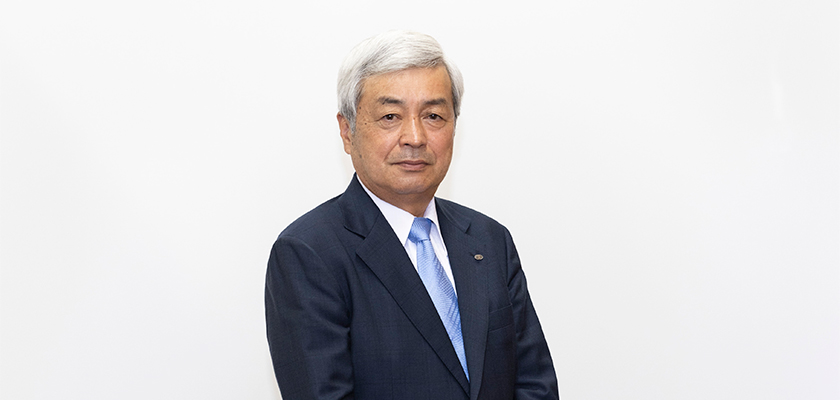 I would like to first extend my sincere gratitude for your support of the Fudo Tetra Group.
The spread of the novel coronavirus (COVID-19) shows no sign of halting, and the future is uncertain with regard to its overall impact on society and the economy.
I would like to express my deepest sympathy to all those who have suffered from the effects of the pandemic.
The spread of COVID-19 resulted in some setbacks to the Fudo Tetra Group's Mid Term Management Plan (2018–2020), which launched in fiscal 2018, such as an impact on smaller investments in private construction within Japan as well as the cancellation of projects overseas. However, we successfully achieved all of our management objectives despite these circumstances. In addition to our contributions toward restoration and disaster prevention work to build national resilience for Japan, we have reinforced our structures for technological development, such as by renovating our Technical Research Institute and promoting the use of ICT. We also welcomed the Aichi Base Industry Group into the Fudo Tetra Group, and we have pursued initiatives in small- to medium-scale foundation improvement projects. In this way, we have enjoyed a considerable degree of achievement toward expanding our areas of business.
We have set a new Mid Term Management Plan to span three years starting in fiscal 2021. The Mid Term Management Plan (2021–2023) represents a period of growth and expansion as the second phase for the long-term goal given in our previous Mid Term Management Plan: to achieve sales of at least 80 billion yen and achieve an operating income rate of at least 5% within a decade by fiscal 2027 while maintaining our profitability. We will continue to aim for sustained expansion by investing in the next stage of growth while also returning profits to our shareholders. In this way, we seek to further boost our corporate value.
In addition, we aim to operate in line with accelerating trends toward decarbonization by working to realize a recycling society that exists in harmony with nature. To this end, we will continue to carry out bold initiatives, such as actively engaging in technological development and investments in resources, and involving ourselves in new areas of business including construction work for renewable energy.
Going forward, the Group will band together and help realize a sustainable society based on the mission given in our management philosophy: "Contributing to the creation of a prosperous, safe, and secure land."
We are looking forward to continuing to receive your support at Fudo Tetra Group.
President