Blocks & Environment Business
In harmony with nature,
We help make the land more resilient,
Protecting shores and structures at harbors, ports, and waterfronts
Fudo Tetra leases formwork for wave-dissipating foot protection blocks widely known as Tetrapods,
and markets other environmental landscaping products.
We also develop and market a range of technical and design services for waterfronts,
as well as products to protect their landscape and ecosystems.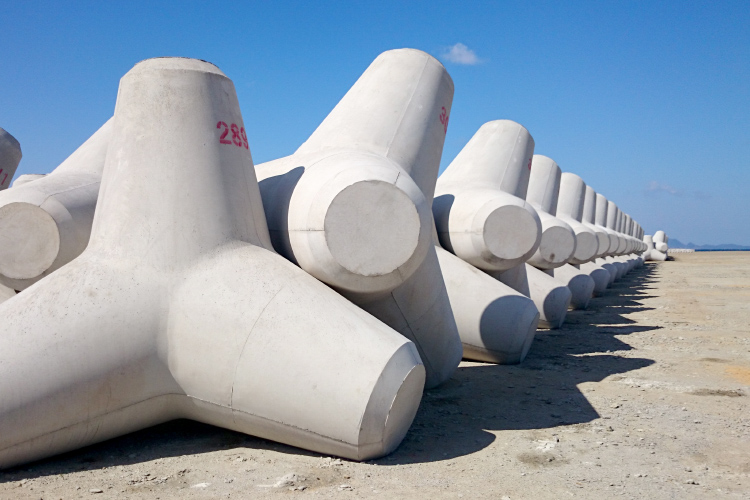 Fudo Tetra leases formwork for wave-dissipating blocks best known as Tetrapods, but including others such as Tetra-Neo and cladding blocks Permex. We also sell aquatic environmental products such as filter units and reef mats.
For customers planning to use these blocks and other products, we provide a range of technical and design services using CAD to create plans and layout diagrams, and we can recommend required block sizes through simulations. For embankments, waterways and their environs we offer technologies and products friendly to the local landscape and wildlife.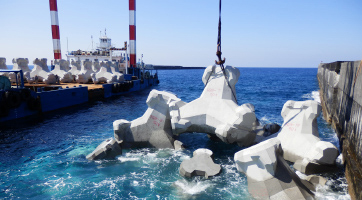 Locations Where Blocks Can Be Used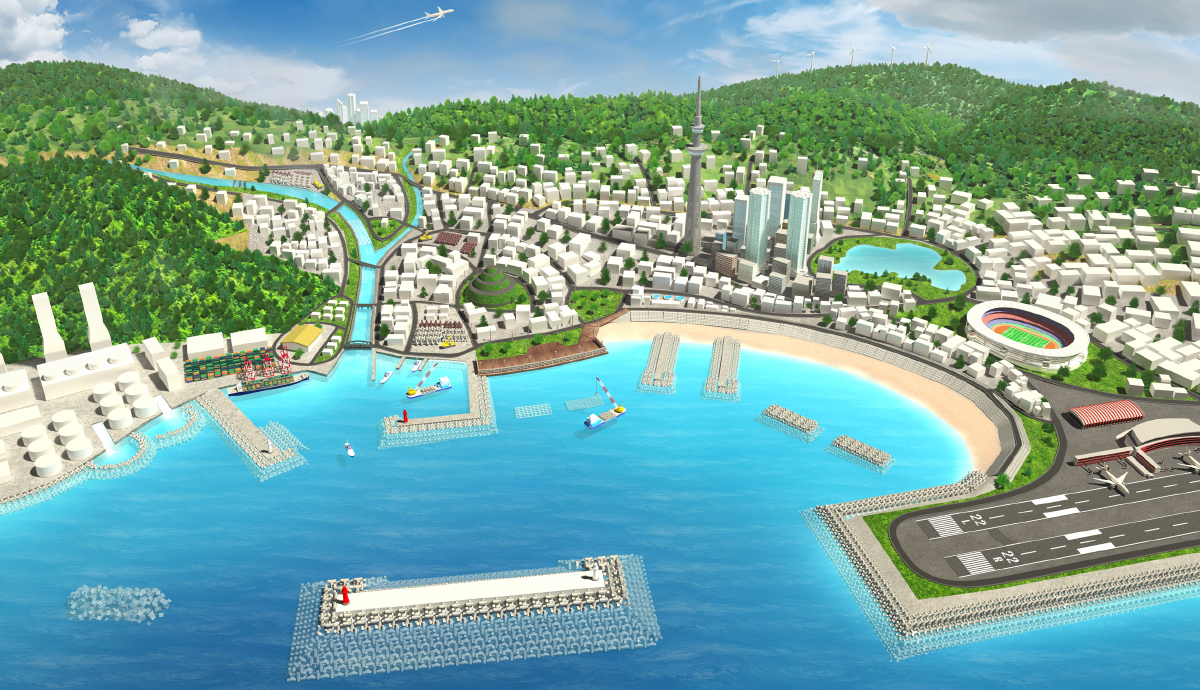 Fudo Tetra provides products that fulfill wide-ranging needs in all locations, from the upper reaches of rivers in mountain areas, their mid reaches, down to lower reaches and the ocean.
Click on the structures/locations on the map for appropriate products.
Blocks & Environment Products
Blocks & Environment Technology
Development of Resilient Breakwaterby Protecting Harbor-Side rubble foundation
The 2011 Off the Pacific Coast of Tohoku Earthquake Tsunami destroyed many breakwaters. One cause was unexpected: the scouring of the rubble mound and subsoil by tsunami overflow. There is thus a need for a resilient structure for breakwaters that cannot be destroyed so easily.
Raising the mound height on the harbor side with widening stones can be regarded as effective in boosting the strength and resistance of the breakwater. However, depending on overflow conditions, armor stones cannot protect the rubble mound. We have therefore proposed a technology to make breakwaters resilient to against tsunami overflow by protecting the rubble foundation with highly stable wave dissipating blocks and armor blocks. The required mass of the blocks is calculated by a method devised by Fudo Tetra that has been appraised as simple and highly accurate. This technology was included in 'Tsunami-Resistant Design Guideline for Breakwaters' published by the Ministry of Land, Infrastructure, Transport & Tourism (December 2015, partly revised) and in the 'Manual for Calculating Required Mass of Armor Blocks for Widening Works of Breakwater to Protect against Tsunami Overflows' published by the Association for Innovative Technology on Fishing Ports and Grounds. It is in use in actual designs for resilient breakwaters around ports and fishing harbors. Furthermore, we are continuing to develop more sophisticated technologies for tsunami protection using advanced tsunami-generating equipment (chamber-type tsunami generator) that can accurately recreate tsunami wave patterns that occur in the ocean.
Tsunami overflow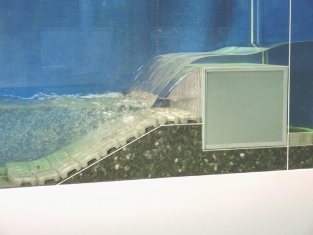 Widened protection against tsunami covered with Permex
Technology to Maintain harbor calmness against Long-Period Waves
In many ports and harbors, it has been reported that long-period waves (wave periods from several seconds to several minutes) cause trouble in cargo handling. One way to resolve this is to build mound structures on the harbor side of breakwaters. Conventionally, a structure of rubble stones that projects above sea level has been used, but as this method extends width, a smaller-sized structure is desirable from the viewpoint of cost and suitability for confined harbor space.
 As a solution, we have proposed a new submerged structure to absorb long-period waves. The crown of this compact structure is level with the still water level. The width of the structure can be calculated using a table formulated from the results of hydraulic model tests, and this has been utilized in actual design.
Long-period wave absorbing structure

Test sections with same width for comparison of the reflection coefficient

Application of Numerical Wave Flume to Evaluating the Performance of Maritime and Coastal Structures
Background:
Our understanding of ocean waves has greatly advanced over recent years, the underlying dynamic processes have been clarified, and it's possible to make a formulation that captures the nature of the basic phenomena that control them. At the same time, remarkable advances in computer hardware and software mean that if complex phenomena can be formulated, the ability to seek answers has significantly advanced.
Thus, with the objective of developing numerical models to help structurally resistive design against wave action for coastal structures which can simulate various phenomena relating to ocean waves, Fudo Tetra participated in a research group for the application of numerical wave flumes in designing maritime structures (1998-2000). This led to the development of CADMAS-SURF (SUper Roller Flume for Computer Aided Design of Maritime Structures) and some of the many studies that in the past used hydraulic model tests requiring considerable cost and effort can now be undertaken using this simulation program.
Application:
In order to compare the overtopping rate of revetment with stepped wave-dissipating work with that of revetment with detached wave-dissipating work, an equivalent design wave was generated using a numerical wave flume and the overtopping rate was examined.
It was found that the calculated overtopping rate of the revetment with detached wave-dissipating work was lower compared with that of the revetment with stepped wave-dissipating work. It was thus determined that, under the conditions of this study, a reduced effect of the overtopping can be expected for an revetment with detached wave-dissipating work in comparison with revetment with stepped wave-dissipating work.
Revetment with stepped wave-dissipating work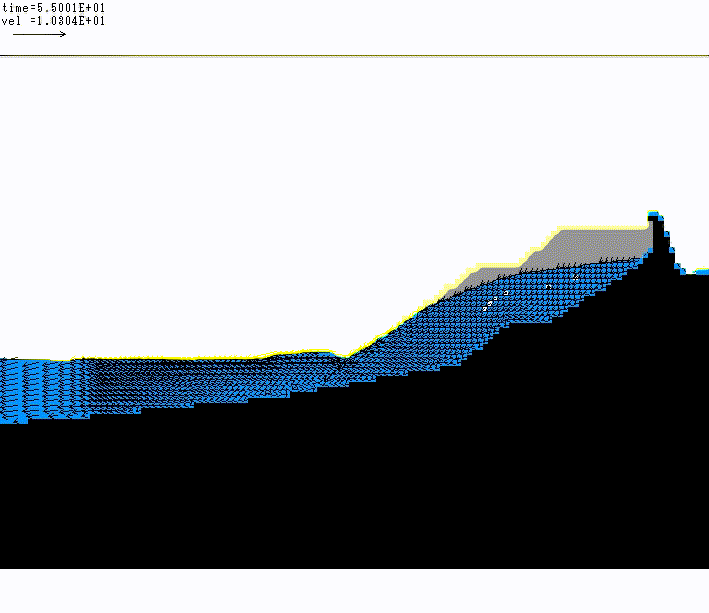 Revetment with detached wave-dissipating work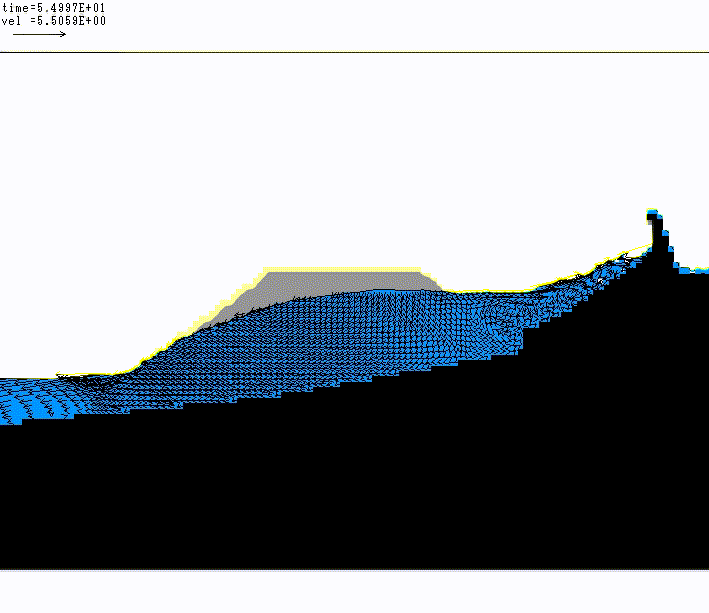 Comparison of overtopping rate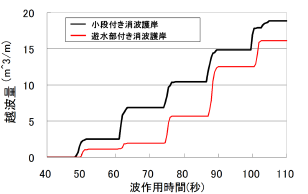 Working for Coral Reef Restoration
In recent years, there have been growing demands in society for the maximum possible conservation of the natural landscape and ecology often lost through the construction of marine structures such as breakwaters and seawalls. The destruction of natural coral reefs found all along the coast resulting from the development of coastal defenses has also become a social issue.
In 1998 an unusual increase is seawater temperature was experienced worldwide, and natural coral reefs in various locations were greatly damaged by coral bleaching, affecting the fishing industry and tourism. In particular, the main Okinawan island suffered devastating damage, and because sources of coral larvae are very limited, the restoration of coral reefs is expected to take considerable time.
With the aim of conserving and reestablishing precious coral reefs, Fudo Tetra is working on methods for the restitution of reefs lost through marine construction work and the rapid regeneration of coral damaged by bleaching. These include developing technologies for transplanting coral by the release of large quantities of coral larvae from artificial nursery production using gamogenesis, and for the large scale relocating of vulnerable coral reefs to more beneficial environments where there is far less influence from construction work.
To make this transplanting and relocating of coral reefs more reliable, we are developing a technique to quantify the environmental conditions at locations where healthy coral reefs have developed in order to select appropriate locations for coral transplanting.
Fudo Tetra's Coral Reef Restoration Technologies